Anti-Aging Trifecta: Understanding the Difference Between Peptides, Stem Cells and Growth Factors in Skin Care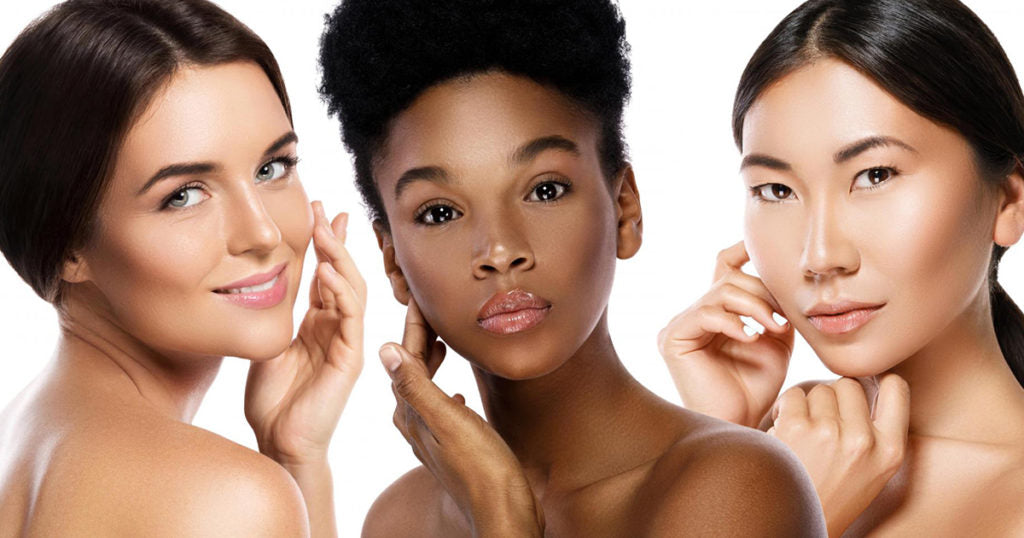 Remember the days when your skin care routine consisted of simply washing your face with whatever soap was available and maybe slathering on some lotion afterward? (Ok, maybe you were a more sophisticated teenager than us.)  Skin care has certainly evolved over the years, and the industry continues to make leaps and bounds when it comes to formulating the most effective, science-based products possible.  There's just no excuse for using sub-par skin care products, especially if you're serious about aging gracefully.  
With advances in the use of protein-based ingredients such as peptides, stem cells, and growth factors, you can not only change the appearance of your skin, but how it behaves.  Sound high-tech and futuristic?  That's because it is.
In this article we'll give you the scoop on peptides, stem cells, and growth factors and how they might make a good addition to your skin care regimen.
Sending the right signals
If you have no idea what peptides, stem cells and growth factors are, don't be dismayed. The science behind how these substances are used in skin care is very complex and, admittedly, quite confusing.  In essence, it's all about proteins.
You may have heard that proteins are "the building blocks of life."  This is definitely true when it comes to your skin. Collagen is the protein that provides structure to the skin, accounting for around 75% of its weight1. 
Unfortunately, we produce less and less collagen as we age, and collagen fibers become increasingly disorganized, leading to sagging, wrinkled skin.
While some skin care products contain collagen that can be applied topically, some of the more sophisticated skin care products on the market include ingredients that can also tell the skin to produce more collagen.
But the importance of proteins in skin care goes far beyond collagen alone.
Enter peptides, stem cells and growth factors.  These special proteins can signal skin cells to do some pretty amazing things.  Using any, or – even better – all three can go much further in maintaining youthful skin than simply cleansing and moisturizing.
How do we know?
Read on for the mind-blowing details.
The power of peptides
Peptides are chains of amino acids, the organic compounds that combine to form proteins, including collagen.  The science behind peptide use in the skin care industry is growing, and new synthetic peptides continue to be engineered, which means that you can find products containing peptides to meet your specific skin concerns. Some peptides you may find in medical-grade skin care products include:
Peptides that stimulate collagen production
These peptides connect with receptors on cells within the skin and tell them to start making more collagen.  They're like the foremen in a factory production line.  Want increased collagen synthesis in your skin? Look for palmitoyl tripeptides 1 and 5 and palmitoyl pentapeptide – 4 (also listed as Matrixyl).
These peptides have been shown to produce results similar to retinol, so they can be a good alternative for people with sensitive skin who want the anti-aging benefits of retinol without its potentially harsh side effects.
Neuropeptides
Neuropeptides work by inhibiting the body's signals that tell facial muscles to contract. Weaker muscles contractions = less noticeable wrinkles. Some examples of neuropeptides include:
Acetyl Hexapeptide-8 (Argireline) blocks the release of a chemical called acetylcholine, which directs nerve cells in the muscles to contract. Another peptide, dipeptide diaminobutyroyl benzylamide diacetate (say that five times fast!) stops acetylcholine from binding to receptors outside of the muscle fibers3.
Pentapeptide-18 reduces the activity of nerve cells, leading to decreased muscle contraction, while palmitoyl hexapeptide – 52 reduces the amount of chemicals that reach your muscles directing them to contract2.
Likewise, palmitoyl heptapeptide-18 restricts the channel through which these chemicals reach the muscles2.
Copper peptide (GHK-Cu) – promotes healing and collagen production by delivering important elements, including copper (duh), to skin cells.
These are just a sampling of peptides to look for when shopping for skin care products.  As you probably noticed, these peptides often perform complimentary functions, so it's best to look for formulas that contain multiple peptides in order to achieve the best results.  
Better yet, seek out products that contain stem cells and/or growth factor along with peptides.
How will this help your skin?
It all comes down to potential.
Stem cells
When you were a small child, you probably dreamed about what you wanted to be when you grew up.  The possibilities to your young mind were endless. Stem cells are a bit like children in that they can develop into almost any type of cell, depending on the conditions in which they grow and divide. This gives them enormous potential to be used for a variety of applications, including the regeneration of skin cells.
Stem cells are often harvested from human tissues for use in medical settings, but the stem cells used in skin care are typically derived from plants.  These plant extracts have antioxidant properties which combat free radicals, one of the major agents of aging. They also provide superior nourishment for the skin and encourage cellular turnover, aka the appearance of new skin cells near the surface of the skin.
If you think about it, this makes a lot of sense.  After all, because plants live outside, they need to be able to withstand the harsher elements of the environment and the weather.  Their stem cells are therefore very good at renewal and repair, since plants can become easily damaged and continue to survive4.  The beauty is that plant stem cells offer many of these same benefits for our skin, they just won't actually become human cells.
For actual cell growth and differentiation, we need growth factor.
Cellular turnover is the process by which dead cells are sloughed off, leaving room for new skin cells to reach the top layer of the skin.  This process slows as we age and can be further affected by environmental factors.  By increasing cellular turnover, collagen production is increased and the skin looks plumper, smoother and more luminous.
Growth Factors
While scientists have been researching growth factor for decades, these little gems are still somewhat shrouded in mystery.  What we do know is that growth factors are substances (either proteins or hormones) that effect the division and growth of the body's cells.  They are a component of stem cells but perform a completely different function.
Like peptides, growth factors direct cell behavior by binding to receptors on the cell's surface and directing it to grow, divide or differentiate.  Also like peptides, there are different types of growth factors that produce varying effects on the cells they interact with.
As you can imagine, harnessing the power of growth factors has been a significant advancement in medicine.  For example, growth factors have been used with great success for wound healing, particularly burns.  Due to growth factor's ability to repair damaged tissue, it was only a matter of time before scientists began discussing the use of growth factors for anti-aging purposes.  
Because they stimulate collagen production and cell regeneration, growth factors may be a worthwhile addition to add to your anti-aging arsenal.  Studies have shown that using products containing growth factors can minimize the appearance of expression lines and wrinkles, improve the skin's texture, and provide hydration5.  
Here's what to look for when exploring formulas that claim to contain growth factors:
Oligopeptides
Sh-Oligopeptide-1 is known as Epidermal Growth Factor (EGF). This type of growth factor is a protein that is produced in various parts of the body, including the salivary glands.  Don't worry, though – Sh-Oligopeptide-1 is a synthetic EGF engineered to mimic the structure of human EGF, so you won't actually be slathering spit on your face (cue sighs of relief!).
Sh-oligopeptide-2 is related to EGF and is also purported to promote cellular reproduction and regeneration.
Polypeptides
If you're wondering why you're seeing the word peptide again and again, it's because the growth factors we're discussing are chains of amino acids, so they are similar in nature to peptides, only bigger in size.
Sh-Polypeptide-11 is referred to as Acidic Fibroblast Growth Factor.  This growth factor causes fibroblasts (connective tissue cells that produce collagen) to reproduce and grow. Sh-Polypeptide-1 (aka Basic Fibroblast Growth Factor) does essentially the same thing6.
Finally, Sh-Polypeptide-9 (Vascular Endothelial Growth Factor) provides nutrients to fibroblasts7.  
Conclusion
Now that we've broken down the difference between peptides, stem cells and growth factors, you can understand why and how to look for these ingredients when shopping for skin care products. As we have seen, each of these elements offer unique benefits that often work most effectively when used together, so you'll want to look for formulas that contain a good amount of these active ingredients in some combination. (Hint: you can tell a product contains very little of an active ingredient if it appears at the end of a long list of other ingredients).  
Our EGF Active + Peptide Serum, for example, combines both Epidermal Growth Factor and neuropeptides to encourage increased collagen synthesis while simultaneously blocking the communication channel that directs muscles to contract.
Yep, science is pretty amazing.
If you have a question about the science behind our advanced skin care formulas or would like to see more articles anything we've mentioned, leave us a comment!
Article references: